Cinephile 11.3: Adaptations, Translations, Permutations Now Available!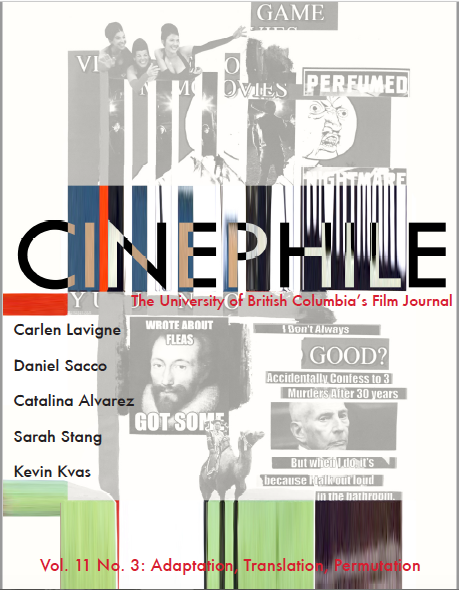 Cinephile 11.3, "Adaptations, Translations, Permutations," is now available online!
This issue focuses on issues of new media, ranging from true crime TV to video games, making it one of our most topical and poignant issues yet. Featuring articles by Daniel Sacco, Catalina Alvarez, Sarah Stang, Kevin Kvas, and an introduction by Carlen Lavigne, Cinephile 11.3 is packed with insightful pieces. We also have some exciting interviews and film reviews inside. A big thanks to all of our authors for their contributions.
Available at selected retailers in Vancouver, or, if you prefer to have the issue delivered directly to your door, subscribe to the journal and receive the most recent issue and three forthcoming issues, plus a complimentary back issue of your choice for $30 CDN. Individual issues are also available for purchase for $10 CDN.
Available online HERE: Cinephile 11.3
Follow us on Twitter @CINEPHILE_UBC and like us on Facebook!
Artwork by Nicole Tischler.